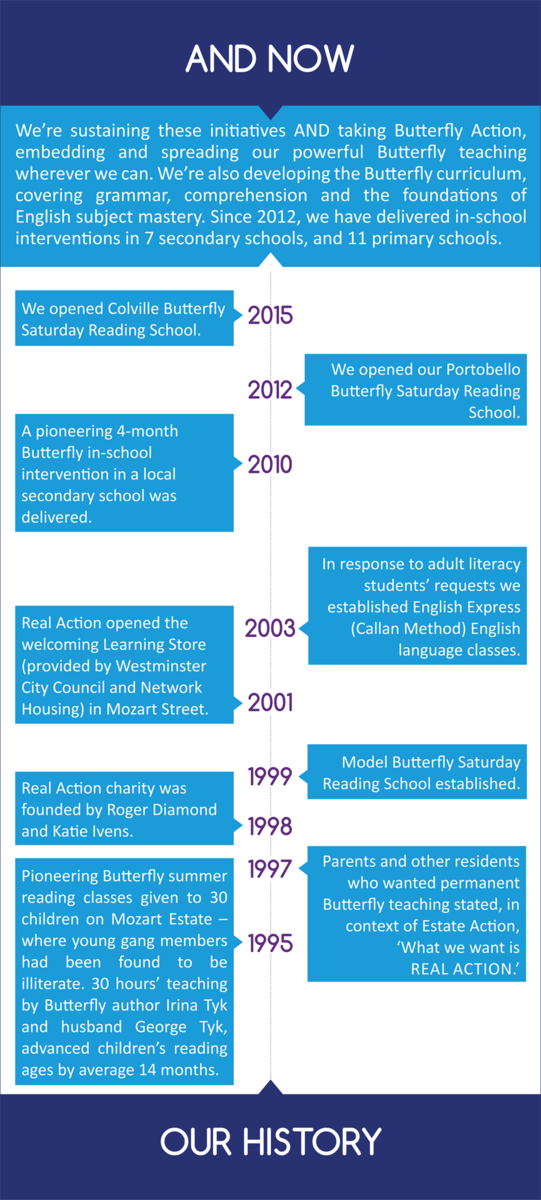 Ready for Change
At that time the area was particularly blighted by high levels of youth crime and gang activity. Realising that many young people on the estate lacked basic literacy skills, local residents, led by Roger Diamond, joined forces with educational specialists.
Laying the Foundations
Together we ran a ground-breaking, fortnight-long summer reading course based on the Butterfly Book. The success of this course led eventually to our formal constitution as a community-led educational charity in 1997 and we became a registered charity the following year. Since then our work has developed to include the Fast Track adult literacy project, the Butterfly Saturday Reading School and English Express, our English language project. (See what we do for more on our projects). In 2001 we moved into our Mozart Street home, the Learning Store.
Into the Present
We continue to provide highly effective literacy classes for adults, teens and children, in addition to our English language classes for adults. From a single Butterfly Saturday School at Queen's Park Primary in 1999, we opened a second Butterfly School in 2012, and a third this year, at Colville Primary School. Our work has had a transformative impact on the lives of thousands of individuals and on the wider community – we are now seeking to spread the Butterfly Effect further, through developing projects such as The Butterfly Network, so that others may benefit from it too.