The Butterfly Saturday Reading School
We are delighted to say that we opened a new free Butterfly Saturday Reading School at the Venture Community Centre, W10 5YB. We have a number of volunteers who offered their time to start this wonderful initiative on June 3rd every Saturday at 10:00 AM – 12 Noon till the last summer class on 15th July!

We have a project coordinator, a project assistant and our wonderful volunteers who helped to make this vision a reality. We are incredibly grateful for their commitment and enthusiasm in teaching children aged 5 – 12 how to read and write. From everyone in Real Action, the Board of Trustees, the children, and their families, we say a big 'THANK YOU' to Sem, Kenny, Meng, Olga, Adiba, Alaa, Layo, Dr. Sade, and staff at the Venture Community Centre.

We look forward to resuming on Saturday 23rd September at this venue. Please feel free to register your child/children through the Venture Centre on 020 8960 3234 or contact Real Action directly on 020 8960 3282 and ask for Layo.

The Summer Barbecue
We had a summer barbecue on Saturday 12th August for our adults' students who attend the English Express classes. Our teachers and a few members of the community were in attendance as well. It was a day of networking which gave students the opportunities to get to know their teachers and the management team. The Brazilian barbecue, the delicious Halal meat and drinks were refreshing! Thank you to everyone who contributed to the success of the day. Our heartfelt thanks to Marilza, Carlos, Lucy, Taif, Emerson, Meng, our DJ – Zane, and all in attendance.

To enroll on our Callan Method English teaching classes - English express, please contact 020 8960 3282 for further details.
The impact of helping children with their reading
Yes, the grant received enabled our local disadvantaged children who attended our Butterfly Saturday Reading School access the opportunity to learn how to read in English Language. This is a golden opportunity for them because the grant our funders give us helps us to provide this needed support free to the children. The children who attend our Butterfly Saturday Reading School usually find it difficult to cope with their education due to their poor ability to read or understand written instructions at school. This gap also makes them to be behind their classmates who have access to parents who are well learned and can access paid extra tutoring classes for their children. Most of our children have parents who are not able to read and write.
We have helped many pupils who directly benefited from the programme, in the past years. Some moved on to universities! Children tend to come running to our classes: they tend to inform each other. By their parents, from multiple cultures, they are often not led, but pursued!


Case studies for the Summer term 2023

Parent of child aged 5 – "My child attended for the term and has now moved up a book level from pink to red B which is the step before moving up to another level. My daughter has become confident and more willing to read at home since she started the Butterfly Saturday Reading School."

Parent of child aged 4 – "My child has just started learning phonics and she is now confident in recognizing the alphabet."

Child aged 11 – "I was able to finally score high on my spelling test. I scored 28/30 for the first time!"

National Literacy Day

Celebrated annually on 8th September. National Literacy Day is an annual awareness day that encourages all of us to take a break and get reading. We are inviting all members of our community and volunteers to join us as we celebrate. Please feel free to pop into our office at The Learning Store, 3 Mozart Street W10 4LA between 10 AM and 5:00 PM.

Please get in touch with us – we need more volunteers for our Butterfly Saturday Reading School as more children are in need of this support.
Are you an experienced or retired teacher, social worker, etc.

Are you looking to develop your experience with young people through volunteering?

Do you need experience which will stand you in good stead for when you apply for a job?

Are you looking for classroom experience?
Can you commit 2 hours every Saturday? -Term-Time only

To join us, please call 020 8960 3282 / 07985235209 for more details.

Like us on Facebook and Instagram! Thank you for reading our updates!
https://www.facebook.com/RealActionButterfly
https://www.instagram.com/butterflyschooltreehouse/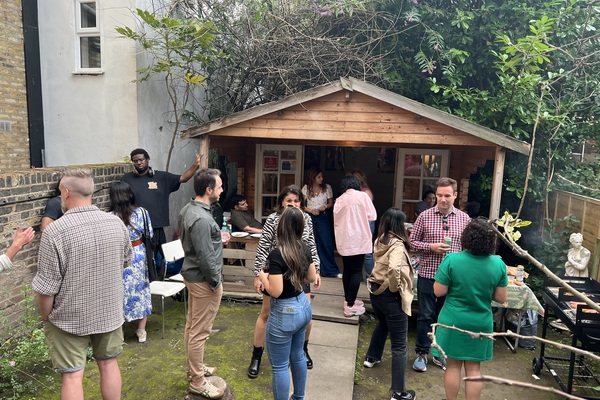 Some Images of R.A summer BBQ Events